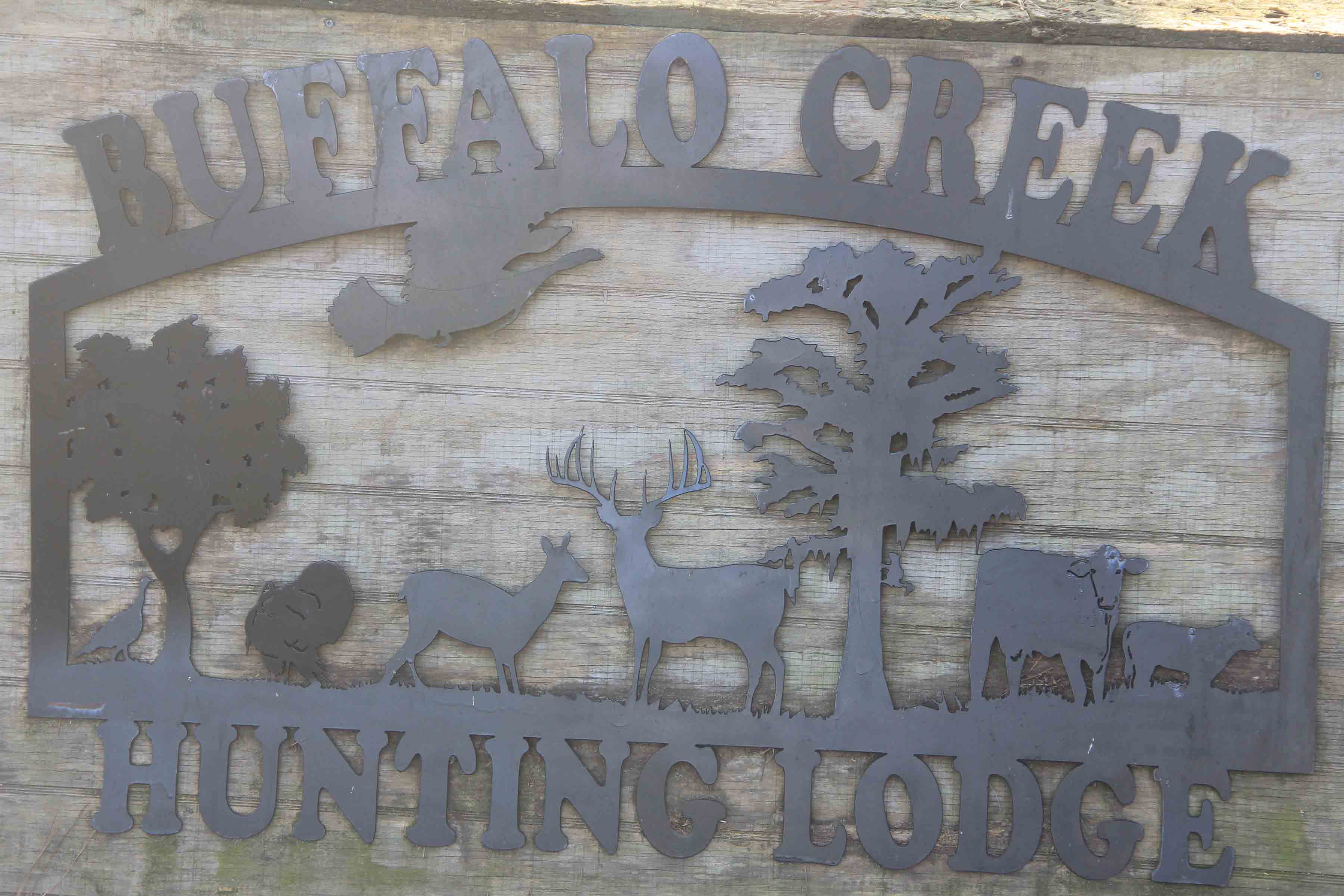 Sampson Lodge
Several thousand acres of beautiful hunting country await you at the Sampson Lodge.  It consists of flat land with slight ridges of hardwoods and pine thickets surrounded by cypress swamps.  Our lodge is located along the beautiful Six Runs Creek in Sampson County, North Carolina.
Sampson County is well known for quality bucks and an abundance of wild hogs.  This area has everything a hunter dreams of with 75 acres of wildlife food plots, corn, soybean fields, and year round feeding programs which ensure quality game, such as Whitetail Deer, Wild Hogs and various other game species.
With 12 different hunting areas throughout our Sampson Lodge we can alternate hunting groups to provide for a quality hunting experience.
For those individuals that limit out early or would like a break, we offer a wide range of summer activities for the hunter and non-hunters alike.  They include canoeing, wildlife photography, wildlife viewing, hiking, camping, target shooting and skeet, striper fishing, and fresh water fishing.  There are two ponds stocked with large mouth bass, bluegill and other fish species available for everyone, allowing them midday activities.  Don't forget to bring your fishing gear.
Hunting Opportunities
Buffalo Creek Guide Service offers two remarkable hunting locations.  The Sampson Lodge in  Sampson County, NC and the Hyde (Carawans) Lodge in Hyde County, NC.  Both locations are known for their abundance of wildlife and trophy animals.  Check out each Lodge below and pick the Lodge that suits your hunting needs, or you can do a combination hunt and visit both locations.
We welcome archery, muzzle loader, rifle, shotgun and handgun hunters.  Whether you hunt deer, hog, turkey, bobcat or small game we can satisfy your hunting desires.  We at Buffalo Creek Guide Service strive for a quality hunt and to ensure the best opportunities for our hunters we try to take small groups, so early reservations are recommended.
Hyde (Carawans) Lodge
Hyde County is a coastal area consisting of intermixed cypress swamps and large farm fields.  Buffalo Creek Guide Service has purchased 20,000 acres of this prime hunting land.  Our primary Black Bear hunting areas are neighbored by the Alligator River National Wildlife Refuge and the Mattamuskeet National Wildlife Refuge.  These wildlife refuges are home to some of the nations' largest Black Bears.
This area has produced the current record bear (800lbs) and averages bears over 300lbs.  Due to North Carolina's mild winters, Black Bears have a very limited hibernation period allowing for almost year round growth.
Besides bears, the coastal area of Hyde County offers a great opportunity to hunt a variety of waterfowl species and Whitetail Deer.  This area will provide opportunities for any hunter, whether you like ducks, geese, Sea Ducks, Tundra Swans, deer or bear.
Meet the Team
We hire local people to help run our lodge, because here in North Carolina, the southern charm is part of our business.
Our staff often consists of husband and wife working together in a family environment.  This helps us to keep the family feel when you walk through the front door.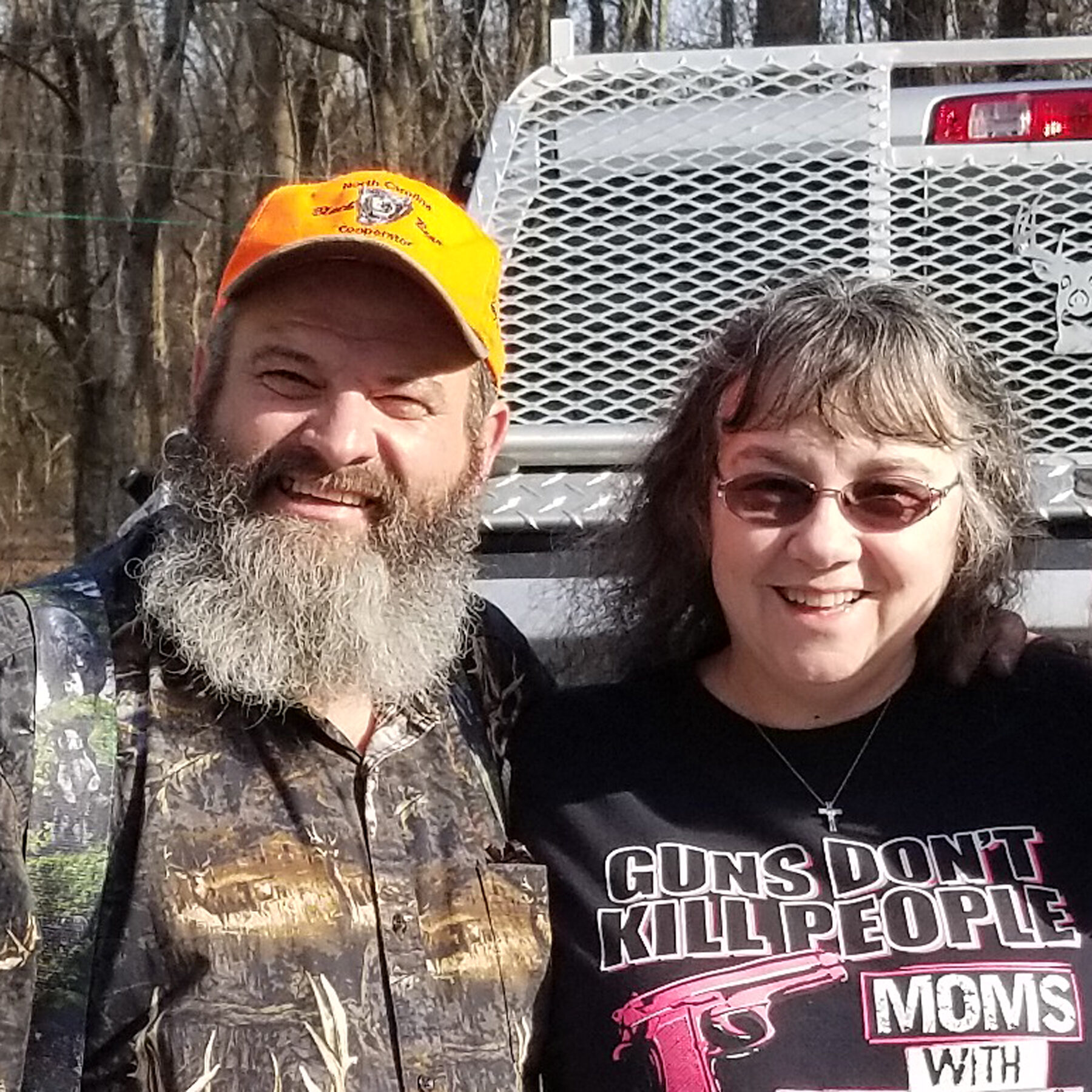 Johnnie & Debbie Dale
We are native North Carolinian's who fell in love at a young age and have been together for 41 years.   We have two beautiful daughters and son-in-laws and 6 precious grand-kids.  When you hunt with us we treat you like our family.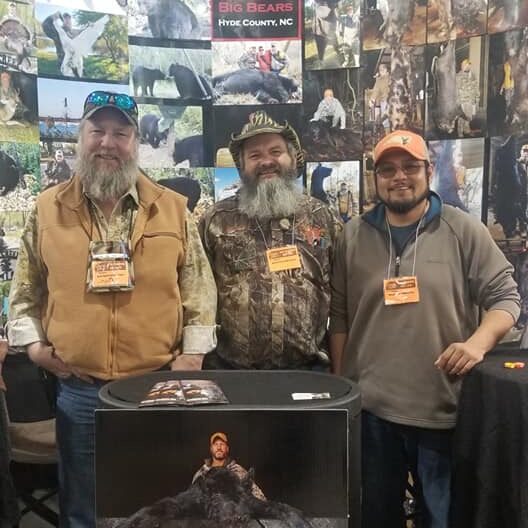 Mark Davies & Teemoe Aviles
Mr. Mark Davies is a close friend that comes out during bear season to help guide some of North Carolina's best Black Bear Hunting spots.  Mark Davies has been guiding hunters for most his life in Colorado and North Carolina and has become crucial to our business.
Mr. Teemoe Aviles has been guiding hunters at Buffalo Creek for over 15 years and knows all the best locations to get you your perfect trophy.  Teemoe's skills and genuine personality has earned him the spot as our General Manager.
Next Steps...
Call to check on available dates or book your hunting trip today.